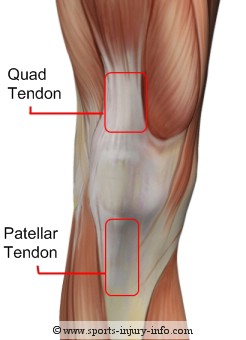 Last night I decided to let my knee rest up rather than aggravate it further with a bike ride.  I iced it a few times, kept it elevated, and things were feeling much better.  Then I went to move.  I bent my right leg and went to straighten it, and
>poof<
it felt like my knee was on fire!
I.  Am.  Not.  Happy.  About.  This.
This morning everything feels really good until I need to activate my quads.  After some snooping around, I found something that seems to match my symptoms:
 quadriceps tendinopathy
.  Basically, it's some sort of injury to the quadriceps tendon which attaches to the top of the patella.
The good news is that it responds to massage and icing.  The bad news is that it takes a lot of rest to fully recover.  :(
Not entirely sure how I'm going to handle this with training.  If there's anyone out there with some tips, please send them my way!